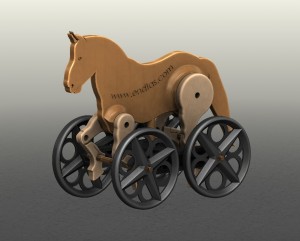 I saw this toy in Landskrona museum sweden. It was i guess around 100 years old. I liked it and made this design. Not identical to the toy in museum, this is quite a new design. But everything is tested and simulated in solidworks. It will run nice.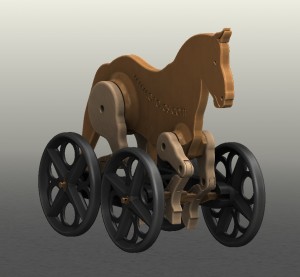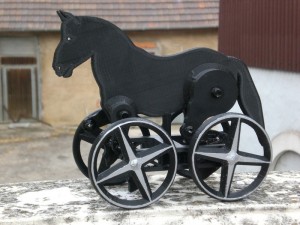 front and rear legs are made of identical parts, just as the front and rear axles & wheels. metal-plastic pins or screws would be needed to assemble moving parts together.
I've made some modifications to make model easier to print (for some printers at least); in version 2, axes and wheels are separate and need assembly, they are one piece in version 1. All wheels are identical as are the front and rear axles.
STL file is ready to download below.
if you want a made model ready to be assembled, you can visit my page at shapeways.com to order your copy of the full printed horse toy.