Here is an other bicycle product.
There are already some products in the market that combines mp3 playing and a headlight  but although china originated they are a bit too expensive. on the other hand, there are many headlights, hand torches and mp3 players which all are very cheap.
So I've concentrated on this deep 🙂 issue and designed an mp3-headlight-torch suitable both for bike as well as manual usage by using the parts of products which are already present  abundantly and cheaply at the market.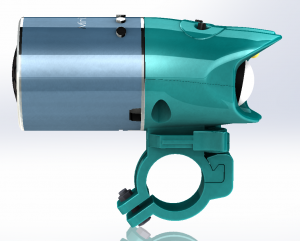 First I've bought several cheap mp3 players. They are around 12$ in İstanbul and their performance is quite good, they even have radios and equilizers. 🙂
Nice Thing is the players having a small plastic base which is very suitable for being used as a functional part for combining my designed headlight and player itself.
Parts from a cheap hand torch or circuitry given in our intelligent bike light project can be used for manufacturing this product along with a cylindirical mp3 player similar to the ones above. I'm sure you can find them around you, they are sold everywhere on the globe. 😀
Meanwhile I've completed assemby of the first prototype to actually see all the problems. Well it turned out to be not too many, enabling me to assemble it into a solid product. I was planning to put extra batteries inside to make power systems of the mp3 player and the light be diffferent. But due to limited interior space I've looked for a way to use the mp3's present battery for both purposes. I've disassembled the player, soldered a pair of wires to the battery terminals and took the power out for the light. I've drilled a hole at the mp3 player to let the cables out.
Here are some assembly photos
download STL files from below:
[download id="40″]